Viscous Coffee is a small café in Adelaide, Australia. This café has made the news recently for selling the 'world's strongest coffee' ever brewed! The super-strong coffee that is on this café's menu is called "Adelaide Ass Kicker". So what is so special about this coffee? Well, the name gives it away but read on to find out more.
What does the world's strongest coffee do?
Ass Kicker is more than just coffee. This super-coffee is said to contain more than 75 times the caffeine content of an average espresso shot. When consumed gradually over a four-hour period, it is said to give an energy boost for up to 18 hours.The café owner remarked that it was a beverage originally designed for a nurse in the ER. She had to stay awake for her sudden night shift. She is said to have consumed the beverage over a 2-day period and she could stay awake for 3 days straight. The café owner then toned the beverage a bit before he made it commercially available.
Composition of the beverage
So what is the beverage made of? The café owner Steve Benington says that this super-coffee is made of:
4 espresso shots
4 coffee ice cubes that have been cold brewed over 48 hours
120 ml of coffee that has been cold brewed over 10 days
A dash of milk
Finally topped with 4 more 48-hour brewed coffee ice cubes
The result is the strongest coffee with 5gms of caffeine content. That is more than 12 times the standard recommendations for daily caffeine intake. The FDA recommends limiting daily caffeine intake to 400mg or less. The caffeine content in a single Ass Kicker is 80 times more than that in a normal cup of coffee.
The café serves the beverage with a warning to "Drink at own Risk". They also warn about the risks it might cause for those with established heart ailments or high blood pressure.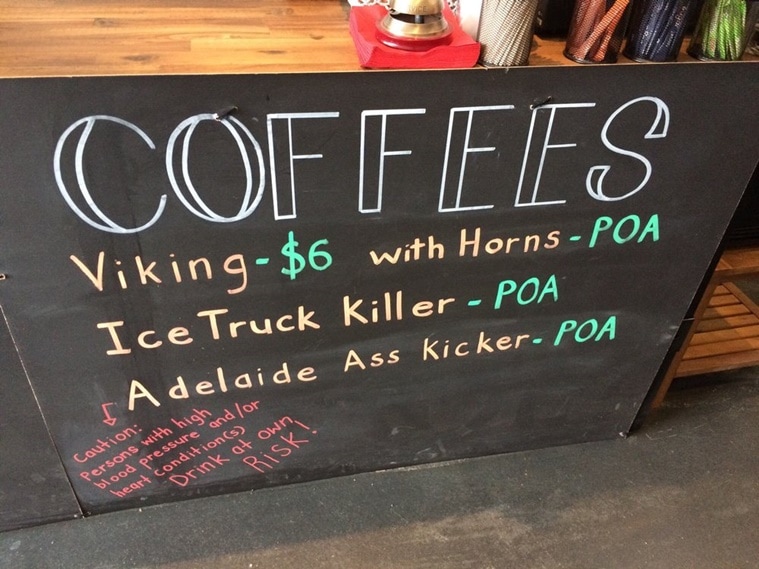 Note that just 10gms of caffeine is considered lethal. Even when taken gradually, such high caffeine content comes with its own risks. Mr. Benington claims that the beverage when consumed, feels "the same as a sustained period of adrenaline burst". He is very particular about warning his customers not to breach the recommendations.
Warning issued by the café
Mr. Benington has framed the dosage recommendations in consultation with a physician and 2 paramedics. He makes it a point to talk to his customers. Explaining to them its composition, in detail, he lets them know of the recommended consumption pattern. He also warns them to look out for warning signs on the wrong dosage of the coffee. Only after that does he let them proceed with the purchase of the beverage. The café also does not recommend the coffee for those under 18.
Mr. Benington emphasizes that this beverage was designed to keep people awake and not as a coffee for daily consumption.
Benington warns against symptoms like sudden bursts of sweat, stammering, nausea, shakes and vertigo. These are the signs of wrong dose or overdose of the beverage.
Serving sizes and recommendations issued at the café
The following are the serving sizes and the recommended consumption patterns offered by the café for the beverage,
Small comes for $19. When consumed over an hour or two, it can keep one alert for up to 9 hours
Medium comes for $13. When consumed over a 2 to 3 hour period, it can keep one alert for up to 12 hours
Large comes for $16. When consumed over a 3-4 hour period, it can keep one alert for up to 18 hours
Any consumption that breaches these recommendations can have serious impacts on the coffee drinker.
About Viscous  Coffee
Viscous Coffee has been a favorite coffee shop of the locals in Adelaide, Australia. It is known for its Siphon brews, espressos, and espresso-based beverages, as well as for the Cold drip concoctions. Mr. Benington the owner and General Manager of the café makes it a point to design unique coffee beverages for his customers.
Benington, after serving the Australian Navy, settled down and opened this café about one and a half years ago. His café has been popular right from the beginning. But the super-coffee has brought the café into the limelight in a very short period.
The café is conveniently located near the beach. The baristas at the café are all friendly. They know their coffee very well. Most of the customers love the cold drip beverages at this place and it is always a sight to watch the coffee siphons brew the strongest coffee. The baristas and Mr. Benington make it a point to interact with their customers to understand their tastes and also provide the right recommendations and encourage them to try their best beverages.
Their brewing techniques yield strong high concentration coffee. In a nutshell, the quality of the coffee at this café is what makes it a local favorite.
All the coffee beverages in the café are custom brewed. They have a unique brewing technique for their cold drip concoctions that give them their one-of-a-kind taste. The super-coffee too is no exception. This strong coffee might have an effect that might make it seem more than just coffee.
Just so you know, though all the caffeine in it comes only from coffee and Mr. Benington ensures that there are no additives in it, he also claims that there are no "adjusted interactions with sugars or other supplements" in this beverage. It tastes really good like every other coffee beverage in his café. It is, in fact, a superior quality; high concentration of original coffee. However, it does come with its own possible risks.