Virtuoso is a large network of luxury travel agencies having more than 15,200 advisors worldwide. They have listed the top hotels for the year and the Best Luxury Hotel of the Year 2017 is the Palazzo Seneca Hotel located in the place called Norcia, Umbria in Italy. This boutique hotel located in truffle country is like a house in the Umbrian Palace.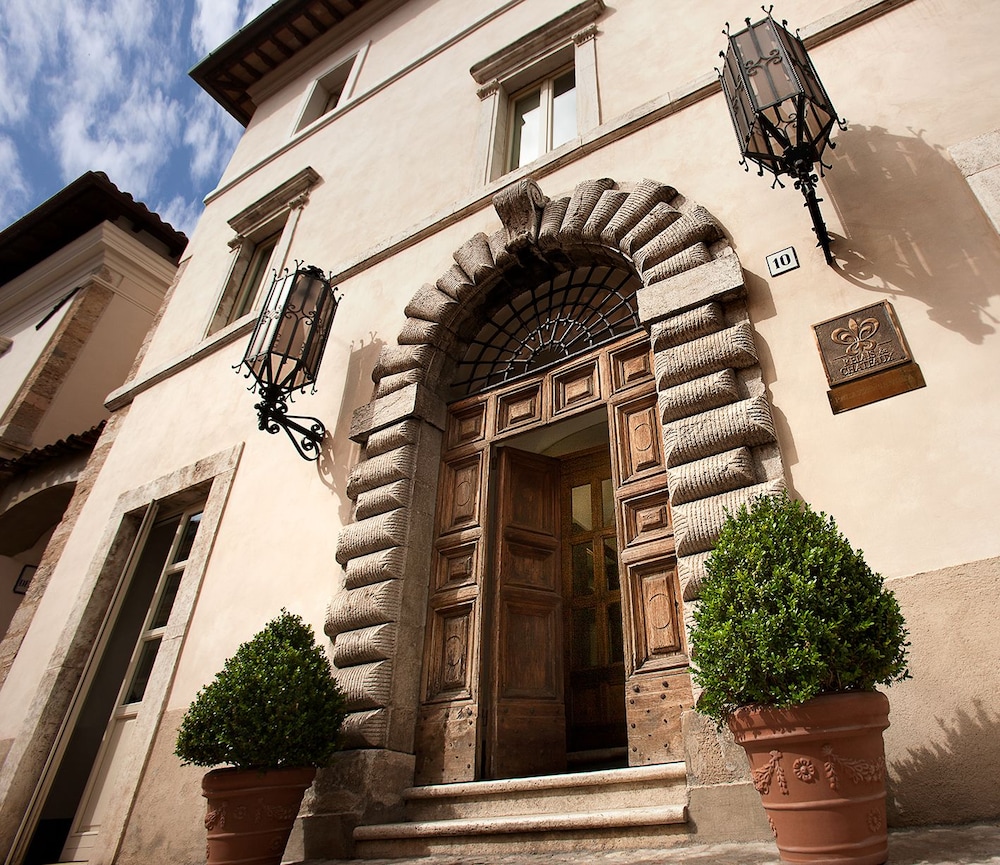 The beautiful residence from the sixteenth century re-opens its doors in the heart of Umbria, Italy as a result of careful restoration. An amazing fusion of tradition and design, quality and simplicity, the project is promoted and executed by Federico and Vincenzo Bianconi, the last generation of a family involved in hospitality services since 1850. Skillful restoration combined with work of best craftsmen and research of unique objects and materials have turned Palazzo Seneca into a unique destination of its kind.
"A house in an Umbrian Palace" – this is not only a slogan but rather a way of hosting, projecting, thinking, living an elegant residence of the sixteenth century. It is a collection of feeling, creativity, design, simplicity, and tradition that let users feel the new Umbrian tradition.
Restaurant
A restaurant is created in the palace as a gesture of love to the land. The palace uses it as a means to speak out of the tradition of Norcia, made of taste, innovation, research in harmony with seasons and nature.
Dishes are prepared using the fresh ingredients and herbs found in the gardens nearby so that visitors can experience the unique tradition of the ancient place.
Wellness
A visitor can experience mystic silence in the wellness rooms located in the basement of the hotel. Old stone floors and groin vaults ceilings make up the Sibilla room where one can avail a massage.
Alternatively, one can visit the restroom and sip the healthy herb tea prepared with herbs from the Monti Sibillini National Park. It consists of a sauna and Turkish bath along with stone hydro-massage bath for six people in a room.
Rooms
The 24 rooms of the hotel are adorned with elegant furniture including leather chairs, carved wardrobes and four-poster beds carved out of wrought iron like in old times. Writing desks are covered by leather and chairs are 'cardinal' style as used in the past by Cardinals for their meetings.
Some suites also contain antique pieces, lockers, and wardrobes manufactured in ancient times and restored by skillful artisans. Floors are made of ancient oak wood while bathrooms feature precious and elegant black granite.
Vacation
A stay at Palazzo Seneca would surely be much more than just a mere accommodation, you will be introduced to a sixteenth-century palace which lives under the care of Bianconi Family since 1850. The stately home also welcomes you to farm-to-table cuisine that is prepared out of fresh herbs from the land garden and native cheese.
Whether you choose to play tennis or read ancient texts in the library, you will surely find a lot of excitement. You are offered vacation activities like truffle hunting, horseback riding, visiting restaurant suppliers, cooking classes and more to have something fun to do at all times.
Hotel Features
The smoke-free hotel features a health club, full-service spa, and restaurant. You can select from room types such as Romantic Double, Junior Suite, and Superior Double and avail free services like free buffet breakfast, free valet parking and free Wi-fi in public areas. Other standard facilities like LCD TVs with digital channels and bathrobes and slippers are provided.
Hotel Palazzo Seneca was announced as a winner for the Best Luxury hotel of 2017 at the 11th Annual Best of The Best Awards By Virtuoso held in Las Vegas. The winners were decided based on the votes of 1600 travel advisors and 800 travel agency partners. The nominations were chosen by travel agencies and advisors from a portfolio containing 1200 resorts, hotels, island retreats and villas spread across 100 countries.